WAYNE MCCLURE "DESIGNER-ENGINEER-BILDOR" 1959 Parade of homes
In my research I ran into the houses of Wayne McClure a few times. McClure received a Bachelor's Degree in Architectural Engineering from Iowa State College 1949. From 1949-1954 McClure worked as an architectural engineer for the Federal Housing Administration in the Hawaiian Islands. McClure moved to Grand Rapids and began designing custom homes throughout metropolitan Grand Rapids.
William Christopher Burgess attended a presentation I gave where I mentioned McClure and then contacted me to see his home designed by the architect-engineer on Fuller Court SE in Kentwood, Michigan.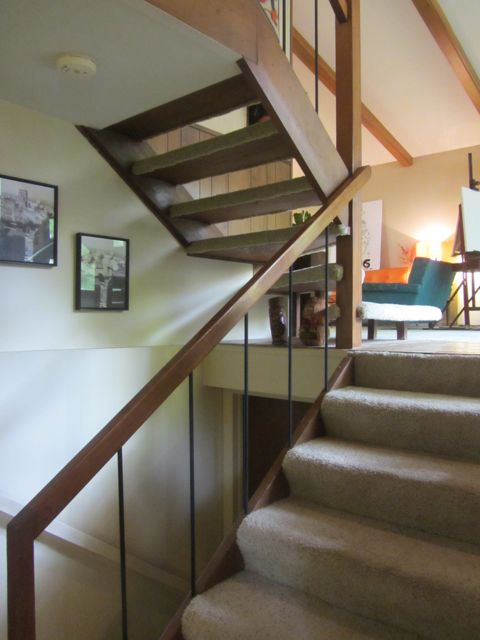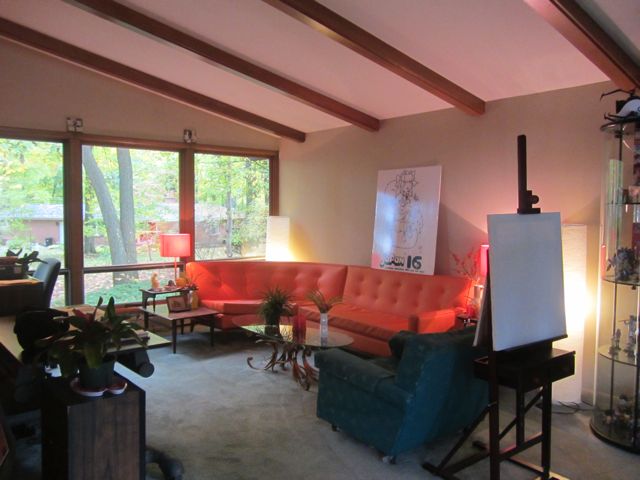 [Click on images above to see a slide show of the Burgess, Beadle Buzzell houses by Wayne McClure on Fuller Court SE in Kentwood, Michigan]
The Burgess Home is done in the mid-century asymmetrical gable style that Will really appreciates. Right away I noticed that at least three of the other homes on the street had a modern feel and could definitely have been designed by McClure as well. Will had met some of his neighbors and they were original owners and remembered quite a bit about the architect. He thought that Fuller Court had been a Parade of Homes Street but this I was never able to confirm this.
A while later, Will made the introduction to Darcy Beadle who moved back to the family home on Fuller Ct. from New York City not too long ago. Her parents attended the 1959 Parade of Homes where they met Wayne McClure and toured his House # 6 on Parade Street.
[Parade of Homes House #6 on Parade Street 1959]
Darcy's parents were so enthused about House #6 that they hired McClure to design their home on Fuller Court in 1961. Her mother, Bonnie Beadle, had saved her copy of the original 1959 Parade of Homes Brochure which led to the story at this link http://www.modernwm.org/back-in-time/#1959-parade-of-homes. When I visited Darcy to photograph her house she actually decided to have a pool party so I met one other neighbor with a McClure house as well. Both Bonnie Beadle and the neighbor remembered McClure as a kind man who was easy to work with but they also thought that he had heart problems and died young. Here is a photo of Wayne McClure from the 1959 Parade Brochure.
McClure's homes - at least the ones we've identified are found throughout Grand Rapids. He designed at least one home (shown in the slideshow below) in Grand Rapids Riverside Gardens neighborhood, a popular mid-century neighborhood of curving streets that lead form the Grand River and Riverside Park up to the main thoroughfare of Plainfield NE. See the slideshow of the Comstock Street house below.
McClure also designed developer homes in the Northgate neighborhood, a small subdivision off Plainfield NE, for Ladd Builders.
McClure described himself as "Designer - Engineer - Bildor." * He worked from his home on Lewison NE shown below.
*The term "bildor" refers to the group of professionals it took to build homes and develop neighborhoods - builders, architects, suppliers, sub-contractors, realtors, and etc. Often related associations and individuals would note that they were "Bildor Members," a label that homebuyers associated with reliability, quality, and honesty.